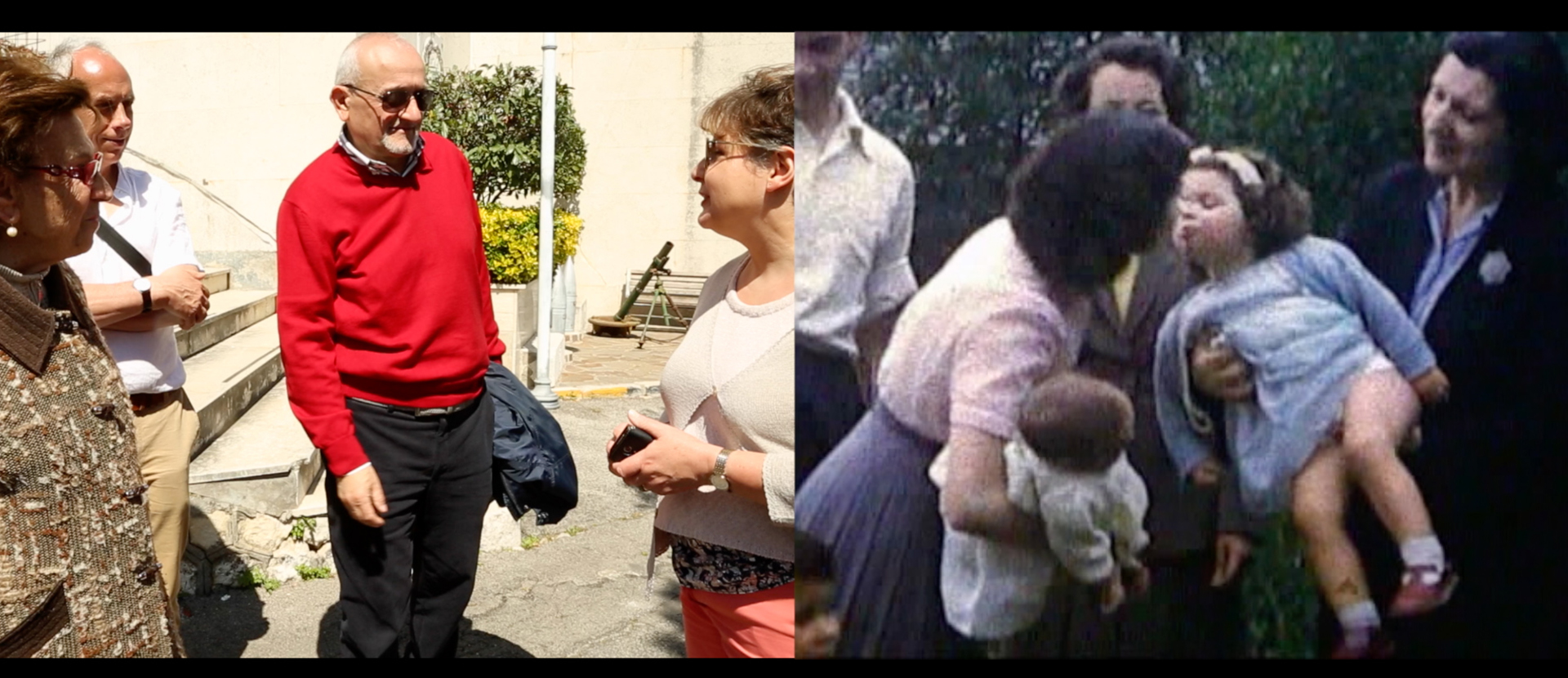 Student discovers long-lost relatives through her final project
Capturing forgotten relatives
20th July 2017
Art and design
Photography
BA (Hons) Photography graduate Evie Mundy, 21, took a trip back in time to find inspiration for her final major project earlier this year.
Revisiting Italy to investigate where her family emigrated from, Evie created a powerful 10 minute split-screen film which focused on her family history and heritage.
We caught up with Evie to find out about her eye-opening project, which led to her finding 20 new relatives…
Tell us a bit about your final project.
My final major project was a 10-minute split-screen film, investigating my family history and Italian heritage. The film has three elements running throughout; an old Super 8 film of my grandmother and her family at a baptism, an interview with my grandmother asking her all about our Italian heritage, and footage taken in Italy where I saw where my family emigrated from and met some relatives still there today.
Through making this project I have met 20 new relatives, some of whom remembered my great, great grandfather. It has been an amazing opportunity to reconnect with my Italian roots and discover more about the beautiful town my family originated from.
What was the inspiration behind your project?
After the shocking result of Brexit, I thought it was the perfect opportunity to explore deeper into my own cultural background and learn more about where my family come from. I thought that it was important to celebrate cultural diversity and inclusiveness, especially considering that if my great, great grandfather had not been allowed into the country all those years ago, then I would certainly not be here, along with four or five other generations of my family. All in all, the project is a celebration of cultural diversity and a way for me to show my pride in being part-Italian.
What have you enjoyed most about your time at Solent?
I have absolutely loved the variety of the Solent photography course; throughout all three years it has felt like one big family with the students, tutors and technicians all getting on so well. I can honestly say that I wouldn't have done half as well without the support of my friends on the course and our amazing tutors.
What's next for you?
My next plan is to go travelling around Europe for a couple of months, and after that I aim to apply for any curatorial traineeships or internships in London. My aspiration is to become a curatorial trainee for a well-known London Gallery.
What advice or tips would you give to other students or potential students?
Simply take every opportunity that is thrown at you, especially in your final year. I feel that I have made the most out of every opportunity offered to me and got involved in so many of the professional development activities, and I completely advise everyone to do so, as it has all been so rewarding and beneficial to my practice and building my CV.
Find out more about our photography courses here.