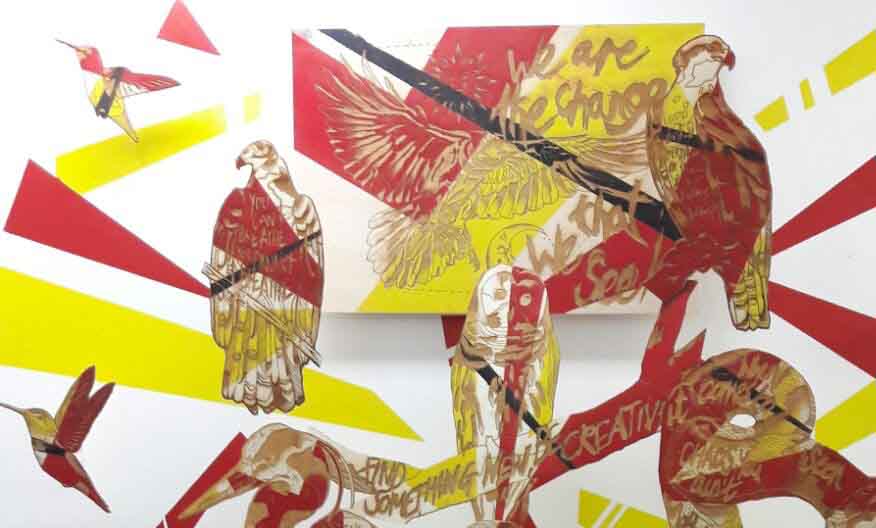 Student uses travels around Canada to inspire final major project
Native American people and culture illustrated by Daniel
9th August 2017
Art and design
Applied art
BA (Hons) Illustration graduate, Daniel Hoad, 22, put his travels around Canada to good use when it came to thinking up ideas for his final major project.
We caught up with Daniel to find out about the inspiration he took from Native American people and their cultures, which helped him produce a selection of works, with a contemporary twist.
Tell us a bit about your final project.
I looked at the cultural, spiritual and social design aspects of Native American totem poles to see how I could give them a more contemporary twist to help make my work more relevant. I focused on the social and storytelling angle of the totem pole and collected quotes from contemporary figures that have affected my life in positive and negative ways. I then had them laser cut onto wooden pieces to keep a traditional feel in the material.
I also looked at different Native American meanings of animals and matched these meanings with the relevant quotes. The colours I used were traditional colours that have many associations amongst native people. I enjoyed using these colours and shapes as they traditionally have different meanings for every tribe or even individual, so anyone viewing my piece has the freedom to come to their own, personal interpretation.
What was the inspiration behind your project? 
I spent three weeks travelling around the Pacific Northwest of Canada learning about the native people and their culture. I wrote my dissertation on this subject, and after I got such positive feedback, I felt it was a good idea to explore further for my final major project. 
What have you enjoyed most about your time at Solent? 
I've probably mostly enjoyed the freedom to experiment with a whole range of materials, from printing, through to using a laser cutter, which I wouldn't have had such easy access to without having to spend an absolute fortune!  
What's next for you?
I have an exhibition coming up at the Coningsby Gallery in London with a group of my fellow students which, if all goes well, could be a real boost to help me find my feet and get into the art world. 
Any tips for other students or potential students? 
I'd have to say make sure you make full use of all the incredible resources you have to hand that can really help you find your style. And also, never take criticism of your work too personally - artwork is all about personal preference and what one person hates, someone else will ultimately love! Use criticism to your advantage, listen to what people have to say and use it to further your knowledge and your style.
Find out more on our illustration courses here.