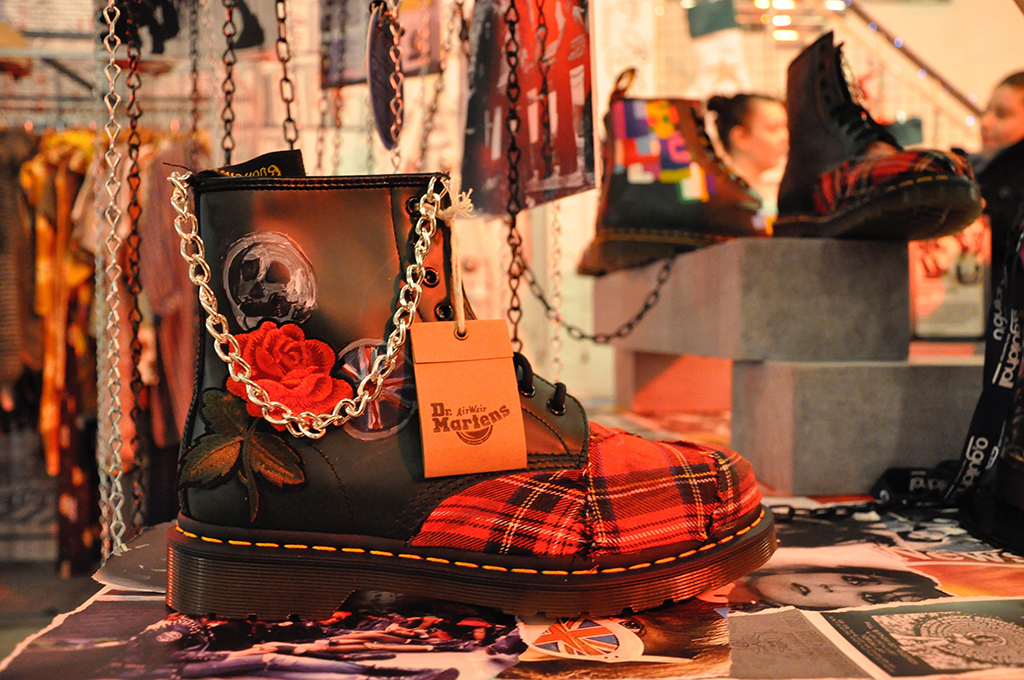 Students design custom Dr Martens
The new Dr Martens store in Southampton has teamed up with Solent's Re:So store to unveil ten custom student-designed boots.
The exhibition of the ten iconic 1460 boots will be hosted in Re:So's store in The Marlands shopping centre from today (Friday 15 December) until the end of the year. Re:So is the first fully fledged student enterprise space to open in a UK shopping centre.
From fully floral to perfectly punk, the designs reflect students' individuality and the 60-year history of the boots, which have been worn by individuals from all walks of life as a symbol of rebellious expression.
Final year fine art student, Jade Littlechild, was inspired by the boots' well-known durability for her design: "People wear the boots until they're worn out because they're loved. With my design I covered them in surgical spirit, scrubbed them with a wire brush and tried to set them on fire – even that didn't get them! I ended up going at them with a pair of scissors.
"For me it did mean a lot - being someone that spends so much time trying to establish themselves as an individual – they're such a known company for being diverse and I want to thank them for giving us such a big opportunity."
Third year fine art student, Fallon McCoy, described her design as an homage to Woodstock and 'flower power' and the boots' use as festival-wear: "It was quite intimidating to begin with, but it's really nice to feel appreciated as a student and an artist with such a high profile company. Being included with something that probably won't come around regularly has been one of the highlights of my time at Solent."
The exhibition forms part of a series of events launching the new Dr Martens store in Southampton. The store also features exclusive artwork from Professor Peter Lloyd, the University's Director of School of Art, Design and Fashion.