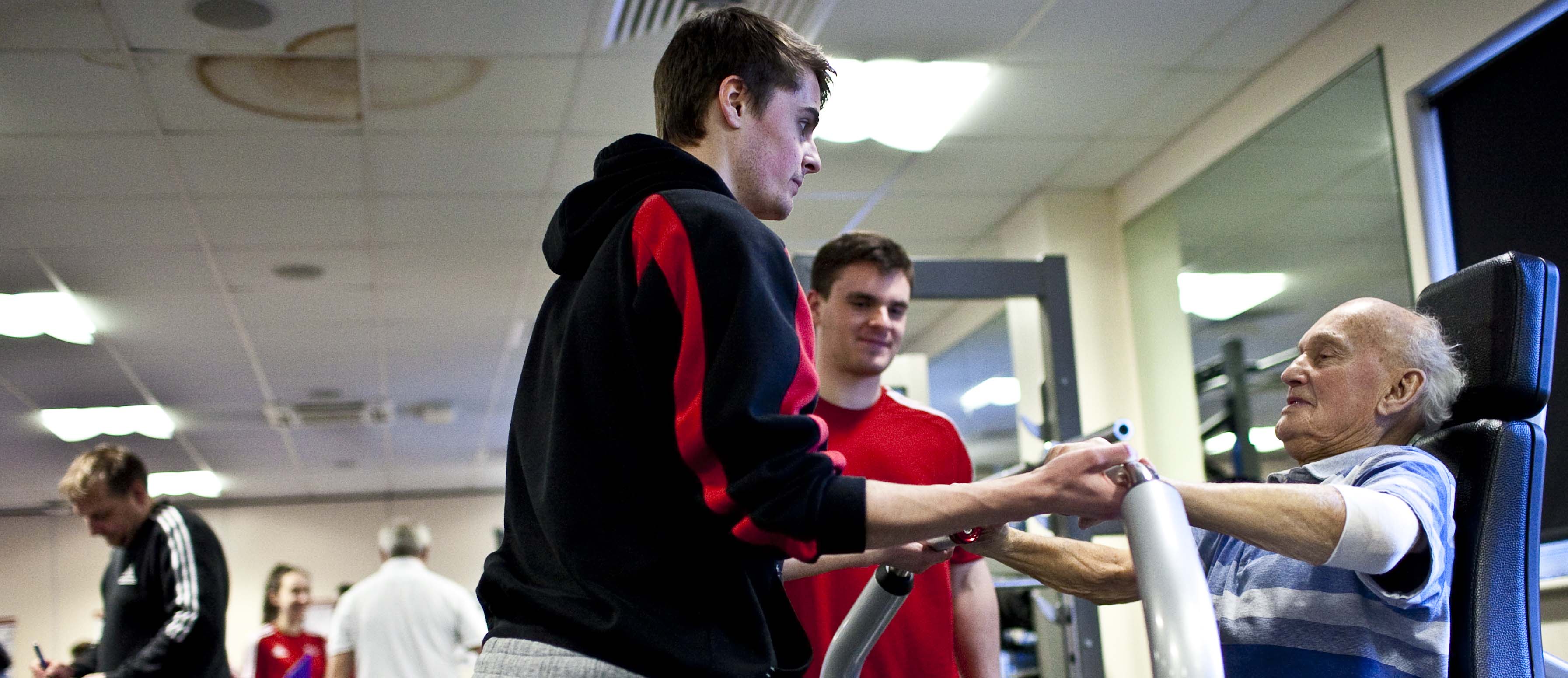 Students take on exercise referrals
We caught up with Course Leader Rob Williams to find out more about Solent's Exercise Referral Scheme, which was recently featured on the prominent REPs website.
9th January 2018
Health, psychology and sociology
Recently, an article about Solent's Exercise Referral Scheme was featured on the website of the prominent Register of Exercise Professionals (REPs), the regulator of health-enhancing instructors and trainers.
Second and third year students on the BSc (Hons) Health, Nutrition and Exercise Science (HNES) course can participate, working to rehabilitate those living with long term chronic illnesses through exercise. The scheme is now in its third year, and has come a long way since its inception.
We caught up with Rob Williams, the Course Leader of Health, Nutrition and Exercise Science at Solent, to find out more about the scheme.
How does the scheme work?
I have built relationships with all kinds of practitioners and charitable organisations who refer into the scheme. Some of these include MacMillan, Parkinson's UK, and NHS departments such as oncology.
After putting in a call for referrals, I screen what's come in and match patients with my students. Second years typically work with lower risk referrals such as mild Parkinson's or depression, whereas third years get much higher risks, such as heart disease, stroke recovery, and lung diseases such as COPD.
Once I've given the patient's contact details to the students I step back and it's up to them to make contact, arrange a consultation and manage their client personally, which is crucial to learning soft skills. I oversee everything and am always available for both the student and patient if needed.
It's important for students to know about the co-morbidities and medications that the patients have in order to understand any implications for exercise, so the first official session is screening and assessing. Plus, I always ask the referrers to be involved as their expertise is crucial to me.
How many referrals have you had, and can people self-refer?
People can and do self-refer, although we usually need them to get their GP to sign  a form of safety to exercise. When I started, the volunteers were made up of mainly university staff, with a few outsiders who came from the local Parkinson's group.
This year I had 54 external referrals and now almost all third-years work alone with their client, whereas everyone used to work in pairs.
The new sports building is currently being built and our hope is to expand into a full-time referral scheme, although of course this is subject to discussion. The clinicians are certainly keen for an all-year-round rehab centre to refer their patients into.
What sort of rehabilitation do mental health patients receive?
We've seen a surge in mental health referrals recently, and use NHS screening methods to assess severity and how the condition affects the person in real terms.
It really has a lot to do with relationships and one thing that makes me most proud about my students' progress is how they overcome their own lack of confidence to inspire their client. This is an achievement when working with a non-referred, "healthy" client, but when a patient who walks into the gym depressed and de-motivated walks out with a huge smile on their face, looking forward to the next session as a result of the student's inspiration, then I've done my job!
How different is this from the rehabilitation for physical illnesses?
We deal with non-communicable disease, usually chronic and potentially life-threatening, such as diabetes, heart disease, cancer, stroke, and osteoporosis.
We use exercise and motivational interviewing to manage symptoms, improve wellbeing, improve health status and change behaviour.
What advice would you give those thinking of applying to the HNES course?
This is not a sport or fitness course with some health and exercise referral added on, it's designed to equip you with all aspects of health and exercise psychology, public health and health promotion, nutrition, exercise physiology and rehabilitation, and community health coaching, so you are the full package.
You're able to find your own strengths and interests as you develop over the three years; you won't be tied to a particular strand or vocation, but can find your preference as you experience the units and elements. If you know health and exercise science is the area you're interested in but haven't quite yet nailed down exactly what you want to do once you graduate, this course is ideal.
What sort of careers do students go on to do?
Options really are endless within the health sector and this course will qualify the graduates for most Masters courses within the health, fitness, nutrition and wellbeing sector.
Typical jobs include working in rehabilitation; some course alumni who graduated last year set up companies within their workplace working in cancer rehabilitation. Since the REPs level 4 cancer course is now embedded into the course, I can guide graduates to MacMillan and cancer support organisations.
Other alumni careers include child respiratory physiologist at Great Ormond Street Hospital, and associate lecturer in nutrition and food science here at Solent.