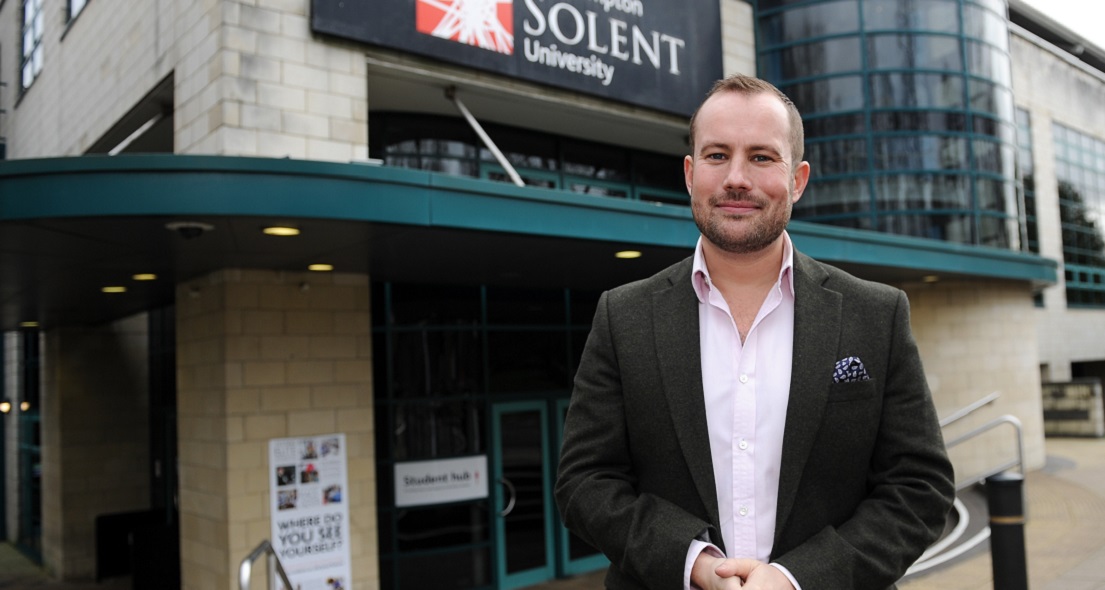 Talking business with Richard Woods
Alumni: The Apprentice
12th February 2016
It has been a rollercoaster ride for Apprentice contestant and alumnus Richard Woods since narrowly missing out on a place in the final.
As well as speaking to prospective students and their families at our recent open days, Richard is returning to Solent to sit in the hot seat and answer students' questions on entrepreneurship, business and his time on The Apprentice. Student events team, Solent Works, are hosting In Conversation with Richard Woods on Thursday 18 February 2016 at the Sir James Matthews Building from 5pm – 7pm.
Richard has been a fantastic candidate to watch on The Apprentice: losing only one task throughout the process; winning both times he was project manager; helping sell over four million pounds worth of property; and heading up the best marketing task Lord Sugar has ever seen.
He talks about his most memorable moments from the show, what he's been up to since it was aired and what he plans to speak about next week.
What kind of subject matters are you going to cover in your talk?
We're going to talk about what you should do to make yourself more employable in the business world, once you graduate, and what actions you can take now to help you to stand out in the job market. Obviously employers want experience so how can you get that experience?
It's that a self-fulfilling prophecy. You need a job to get experience but if you haven't got experience you won't get a job – so what can you do?
Signing up to internships or placements and proactively signing up for things on your course will really help. Here at the University, you have Solent Works and Solent Creatives and these kind of initiatives are perfect to help you to build up your portfolio.
You will see the benefits of that experience when you go out into the job market.  Those are the kind of themes I'll be exploring in my talk.
You captained the rugby team while you studied with us. Are you looking forward to being interviewed by ex-Rugby coach Sheridan Easton?
The thing with Sheridan is that he is about twice my height so I'm expecting to have a sore neck by the end of this! Luckily, I believe we will be seated.
I'm really looking forward to talking to Sheridan and reminiscing about my time captaining Team Solent Rugby club. It really was empowering how you were given different tasks as part of the team – from the finances, to attending and promoting the club at events, sponsorship to selection.
Being the club captain helped me in business and in life. I'm looking forward to explaining to the students about the benefits of getting involved in extra-curricular stuff while they're studying.
'In conversation with Richard Woods' is being organised by student company Solent Works, what do you think about students gaining real-world experience like this?
I think it's brilliant. Take Solent Creatives for example, they have students who are gaining live experience in a variety of areas, which is great for the creative industry. It is fantastic to hear about Solent Works as well, and I think they should do even more events where they can.
As a marketing agency, we hire external event organisers. Even though we can get people to an event, it takes a lot to make it run smoothly. It's really important to get it right. I'm glad there is a commercially focused outreach programme like Solent Works because – when you start doing something professionally like that – that's experience. You can learn as much as you can in the classroom but it isn't until you do it that you really learn how it works.
What was your most memorable moment from The Apprentice?
It has to be the moment in the second task. I wasn't planning on taking the Project Manager role until four or five weeks in but when they said it was a marketing task, and as the marketing guru, I couldn't say no. I was so concerned about it but we put together this most unbelievable brand called Western Cactus shampoo.
Lord Sugar said it the best marketing task he had ever seen and to get that praise in week two was great.
What has the reaction been since the show aired?
At Yomp marketing we have had a large influx of work, with people wanting me to do product launches, digital marketing etc. I'm also being asked to do loads of great events like the open days here at Solent. I've also been asked to speak at a number of business events, I'm doing 12 tradeshows, and I'm getting flown to Dubai. It's really cool stuff!
Are you still in touch with Claude, Karen and Lord Sugar?
I went and talked at Claude's business school which was really cool. I'm looking forward to the right time to see them. I want to be able to say "this is what I'm doing now and this is how I want you to be involved Karen Brady" – we shall see!
How did you make the most of your time at university?
I engaged in as many extracurricular activities as I could. I made friendships, I met my wife here, I didn't just play rugby – I ran the club.  When we set up a young enterprise business as part of the course, I was the managing director! I was enthusiastic about everything. During the week I worked at the Solent Student's Union bar and at weekends I worked at an estate agents. If you want to feel part of something volunteer for everything, do everything and be part of as much as possible. It creates a bucket load of work, but busy people do more. You pick up the skills. You will make mistakes but don't worry about it. You will do better next time and you'll be ahead of everyone else.
How do you think someone can make themselves stand out from the crowd in the business world?
The world is becoming a very busy place so it's all about offering something unique and different. Be yourself. Don't try to stand out from the crowd by being someone else. It doesn't matter who you are or what you do, just know what you're good at. Do that and the reason you will stand out from the crowd will be because you are genuinely good at what you do. So find what you're good at and stay true to it.