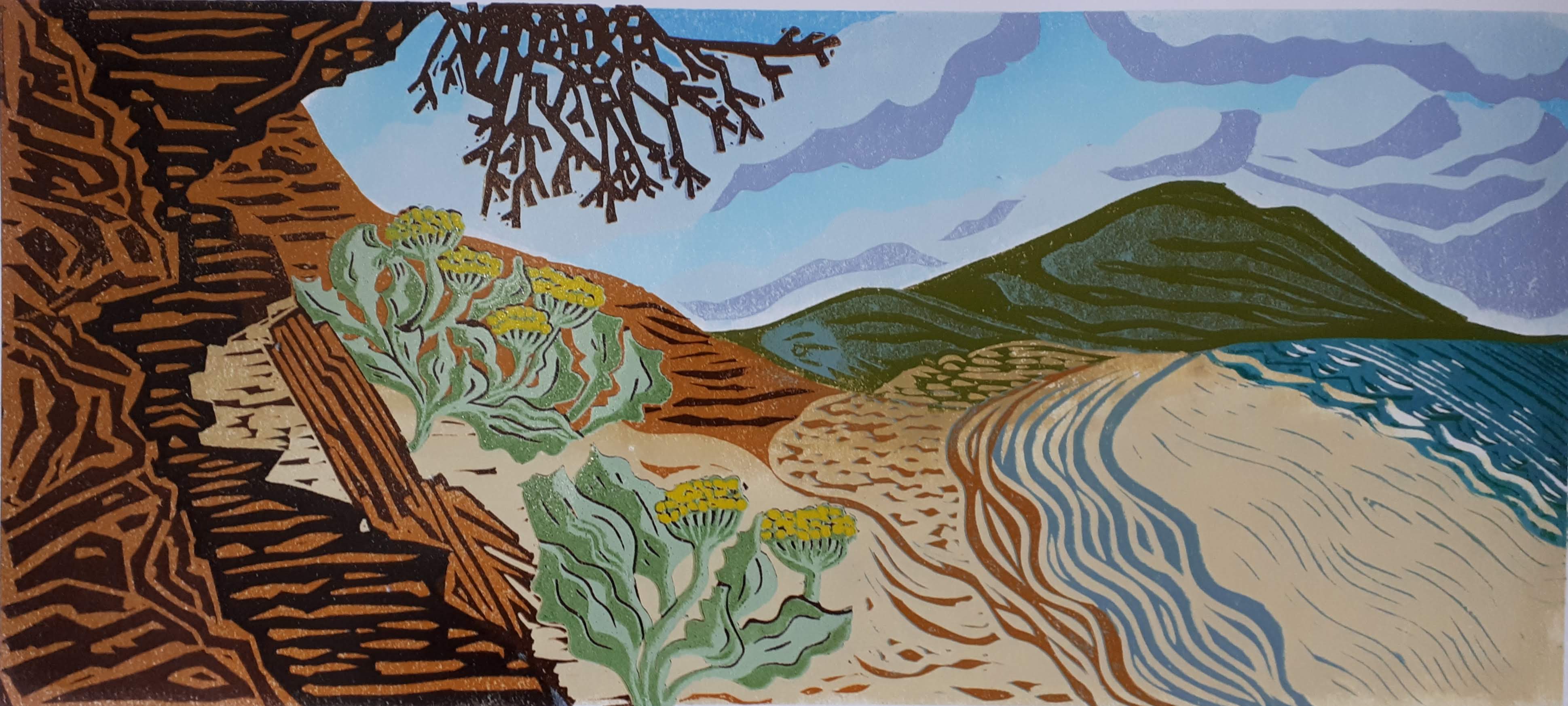 Technical instructors win at St Barbe Open 2020
Two print technical instructors from Solent University are celebrating after winning two out of the three top prizes at the St Barbe Open 2020.
13th July 2020
Two print technical instructors from Solent University are celebrating after winning two out of the three top prizes at the St Barbe Open 2020. Katherine Anteney won the Mary and John Symons Memorial Award for Best Print for her linocut The Neck, Saunders Island, and Kate Lee (exhibiting as Kate Watkins) won the Oil Coastal Gallery Award for best abstract work for her screenprint titled Pathways.
We caught up with Katherine and Kate to find out more about their recent wins, and how they feel their professional practice supports their teaching at Solent.
Hi Katherine and Kate, tell us a bit about your pieces that were entered into St Barbe Open 2020
Katherine: My piece is a print depicting the Neck on Saunders Island in the Falkland Islands. I travelled there for three weeks in January 2017 on a Shackleton Scholarship to teach printmaking and bookbinding in Stanley and out in Camp on West Falkland. I was really lucky to be able to visit Saunders as it is an island home to one family and you need permission to stay there. While I was visiting the Neck I saw rockhopper and king penguins. I took photos and sketched in-situ.
The print is a reduction linocut - this means that each successive colour is printed from the same block. I think this block probably included about 13 different layers of colour - you tend to lose count after a while.
Kate: I entered two pieces this year which will be on display. One of which was Pathways, a circular abstract screenprint which is part of a new series of unique pieces created by building up layers of overlapping marks exploring gesture, mark making and colour interactions.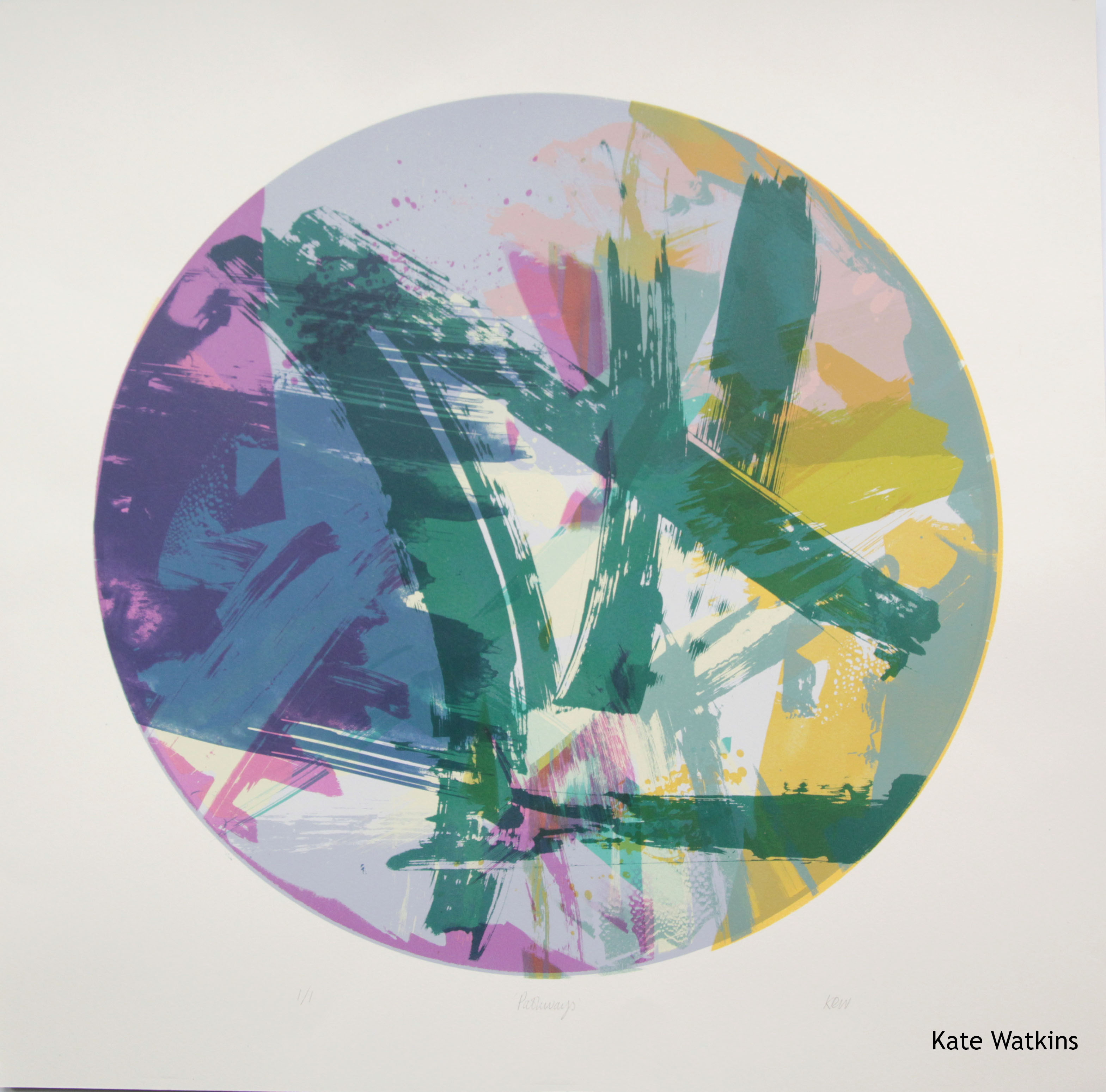 How did it feel to win?
Katherine: It was a bit surreal as I didn't know until I received a text from a friend who also submitted work. I submitted the print just before lockdown and although I hadn't forgotten about it, I didn't realise they were still going ahead with the same timescale so I wasn't expecting an announcement. It was really surprising and hugely pleasing. I had struggled with this piece and it had been shelved in my plan's chest for over a year before I finished it. So I felt like that struggle had paid off because I obviously got something right in the end. The prize is a memorial prize and I hope at some point I will meet John Symons who awards it in memory of his wife, Mary.
Kate: I was really surprised to win, mainly because the selection process was postponed for several months - the original entry deadline was February. Also, as there are always more entries than spaces available in the exhibition, the goal is to get into the exhibition, so winning was an added bonus.
How do you feel your professional practice supports you in your teaching at Solent?
Katherine: I think the fact that both Kate and I are professional printmakers is intrinsic to our roles as technicians at Solent. Technical instructors have a huge amount of contact time with students and I think having the experience of being a working artist is so important. You can help to solve students' problems because you have probably faced a similar challenge in making your own artwork. I know when I was a student I really appreciated the fact that my tutors and technicians were working artists. It felt that any advice I was given had integrity and was more valid.
Kate: I believe working through the creative process as an artist enables me to better support the students who are going through many of the same stages in their own practice. From initial ideas and concepts, through experimentation, problem solving, refining, and presentation of a finished piece. Also being able to develop expertise with the materials and processes which are available to the students brings new ideas to the print room.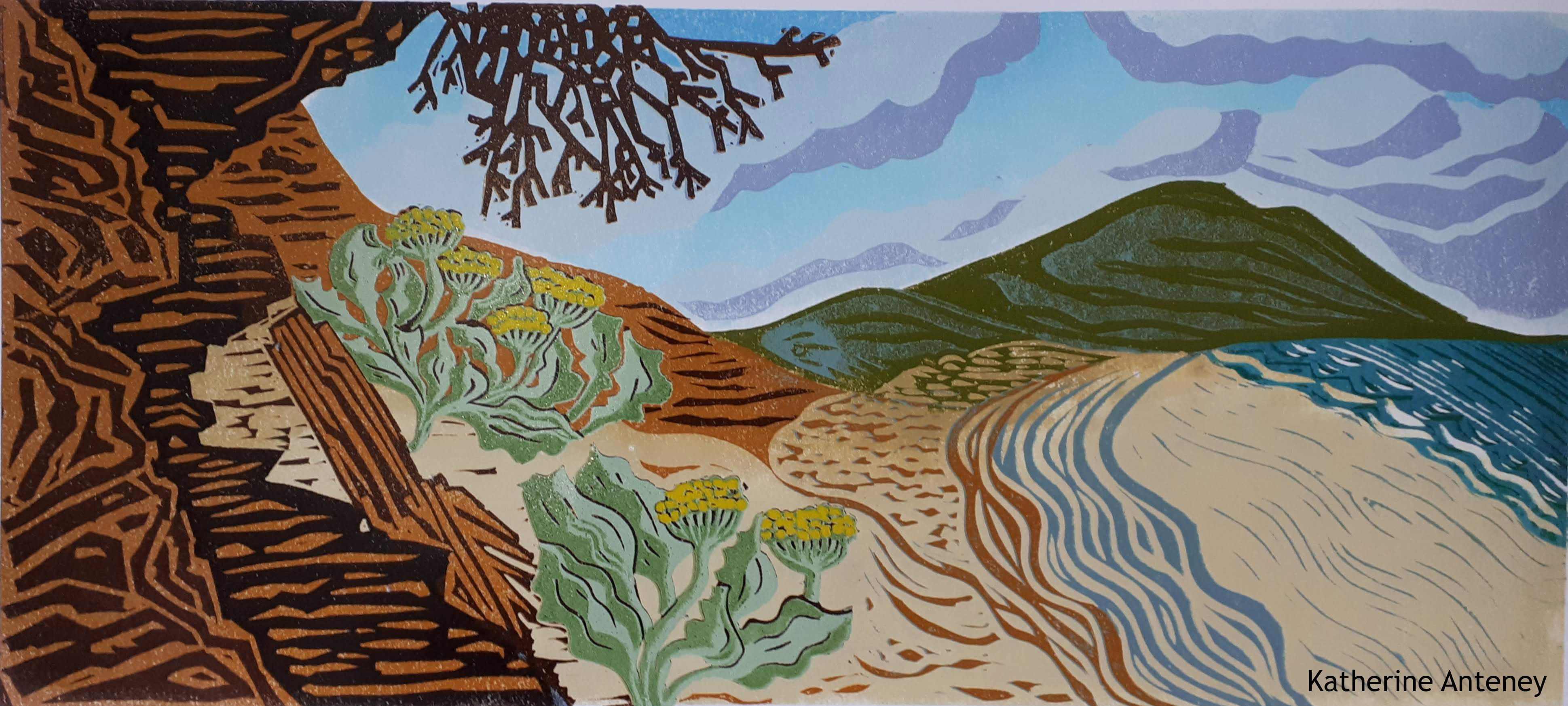 What's next for you?
Katherine: I'm currently working on a large print to submit for Southampton City Gallery Open which again has reached a point where I am feeling a bit uncertain – but I only have two weeks to sort that out so I'll have to make some speedy decisions. I also recently completed two prints of WWII pill boxes for an exhibition called Island Fortress which has been pushed back to 2021. I've got a couple of multi-block prints on the go and one totally experimental one that is hanging around, and I have lots in my sketchbook waiting to be turned into prints too.
Kate: Like many artists I have had art exhibitions and fairs including Printfest in Cumbria cancelled. It has been difficult to stay motivated without those deadlines and access to a studio space. I'm continuing to develop my abstract screenprints as this is a new series for me and hope to be able to exhibit them later this year or next year as galleries begin to re-open.