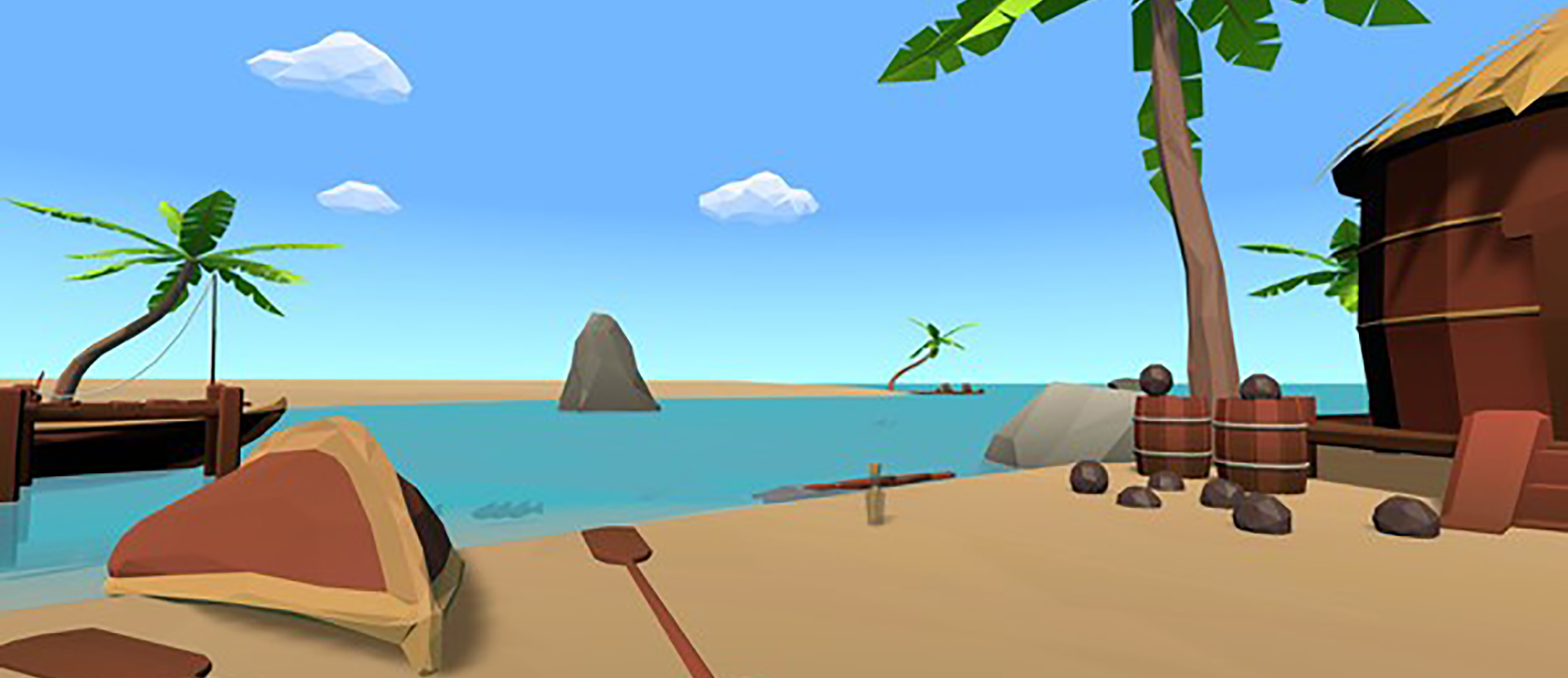 Three gaming students from Solent are celebrating after their virtual reality (VR) puzzle game 'These Lands' began trending on gaming platform Stream.
20th May 2019
Computing and games
Computer games
Final year computer games students, Tim Fitzgerald (BA (Hons) Computer Games (Design)) and Ethan Bruins (BA (Hons) Computer Games (Software Development)) decided to create the game focusing on a VR puzzle – the duo also worked with BA (Hons) Computer Games (Art) student Beth Angel, who produced the artwork.
We caught up with Tim and Ethan to find out more about the game, and their plans for the future:  
Hi both, tell us a bit more about the game.
The theme of the game is a virtual reality puzzle adventure that leaves you marooned on an island. It was after playing notable games such as The Witness and Tomb Raider that we decided to create a VR puzzle. Following in the footsteps of a long lost explorer, you must solve the puzzles to unearth the mystery hidden within. Only the most skilled, logical and brave adventurers will survive.
What were the biggest challenges while working on the project?
Ethan: One of the biggest challenges I faced was trying to get an easy to use User Interface for the tools I had created. The first prototype I made for the tools was quite clunky. After multiple iterations and User Testing, I was able to come up with a clean, easy to use User Interface. Another challenge was trying to get the game to feel right in Virtual Reality. This required me to tweak stuff in the editor like; Movement, Menu Interactions, Level Size and Interactions.
Tim: Keeping the standards high. It can be easy when you are in control of your own work to cut corners or settle for lower quality; the most important advice I can pass on is to follow deadlines and create a good work environment for yourself and remember to take breaks.
How do you feel your studies at Solent helped you produce this game?
Ethan: The courses available to the software development pathway help shape students into programmers. My placement year allowed me to use my knowledge gained at Solent in a fast paced work environment. This year also helped grow me as both a developer and person. My final year helped me hone my knowledge even more, by allowing me to work on this project and many others.
What are your hopes for the future?
Tim: These Lands is still selling extremely well for a student project and I am extremely proud of what we managed to complete in such a small period of time. During the development, I launched my own game development company, Astro Chimp Studios, and although These Lands won't see any future developments (as it's finished), my studio has started its design pipeline on a VR cowboy western game - so keep an eye out for future releases.
Ethan: I feel like the first real game you make is always not going to be what you expect it to be. Although a lot of people say they are impressed with what Tim and I were able to create, there are parts of the game that I just don't feel are up to scratch. After spending 700+ hours working on this, I feel it's time to recap, rejuvenate and move onto my next game.