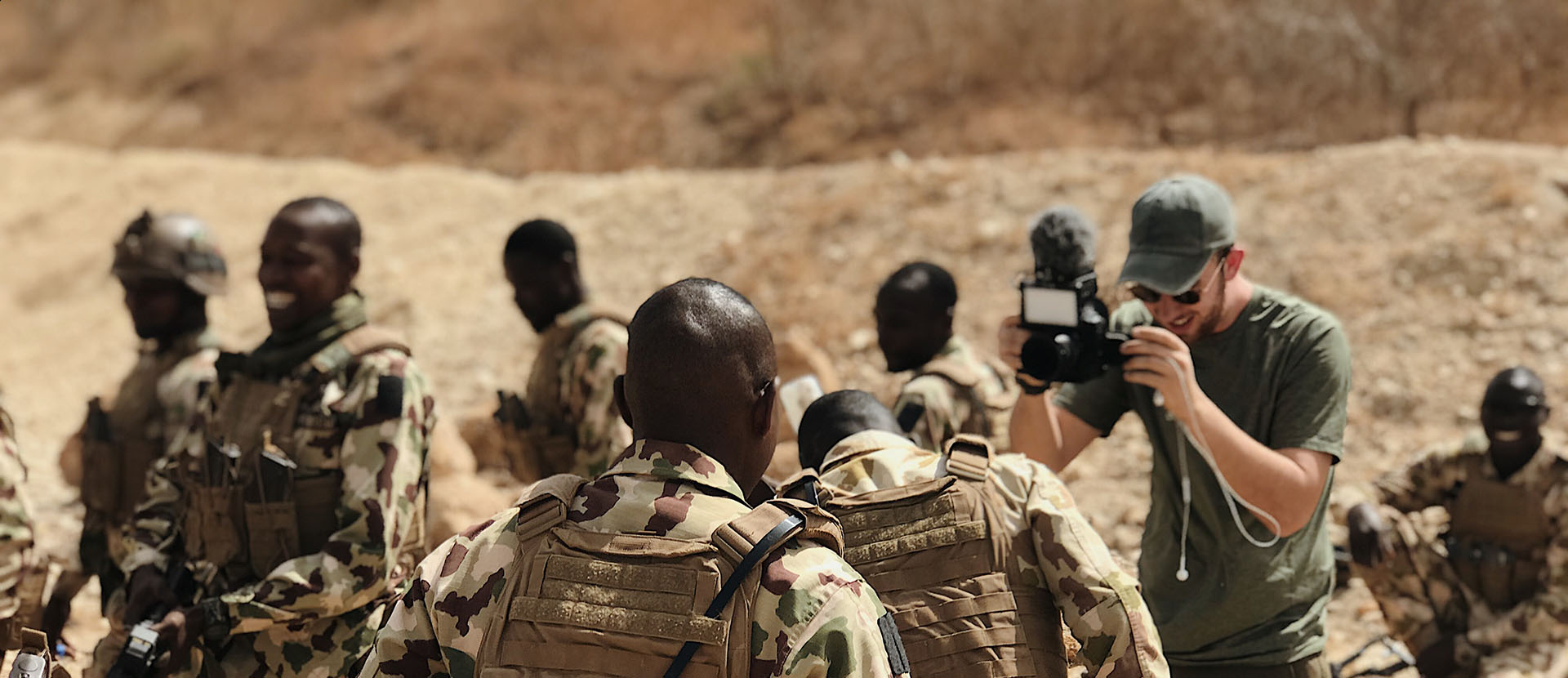 TV alumnus films PM daily briefing
6th April 2020
TV, film, media production and technology
Filming the Prime Minister's daily briefing during these challenging times relies on steady hands and nerves of steel - skills BA (Hons) Television and Video Production alumnus and Sky News cameraman, Dean Massey had to put to the test when he was called upon to do it. We caught up with him to find out more about the experience, and where his career as a cameraman has taken him since graduating from Solent. 
Hi Dean, tell us about filming the PM's daily briefing
Filming it was really nerve-wracking, it was probably the most nervous I've been about filming anything – ever. It was just me filming the head-on shot – it was a lot of pressure. My role was to go in, set the camera up and basically start filming as they came in. 
How did you get your role with Sky?
In the December before I graduated, I managed to secure a job in a trainee position at Sky News which was part of a bursary scheme. That was to start in July, so I graduated and went straight into the position where I had the opportunity to move around some of the different production departments. I received training in sound, editing, lighting, and camera work. I was in that role for almost a year, and then a position came up in what we call a 'shoot edit' which is a camera-operator-editor – I managed to get that and that's what I've been doing now for the past two years. 
Did you always know you wanted to be a cameraman?
I decided I wanted to be a camera operator while I was at uni. Originally I wanted to work in video production and was doing lots of work through Solent Creatives making promo videos for businesses and filming live events, such as Glastonbury, through Solent Productions. From those experiences I decided that behind the camera in TV was really where I wanted to be. 
Tell us more about what life as a cameraman is like
My job is very spontaneous and I often don't know what I'm shooting until that day. I've worked on some really interesting projects with Sky News this year.  At the start of the year I was in London and had a call from work in the morning asking me to go to Australia at midday! Five hours later I was sitting on a plane heading to Sydney to cover the Australian bush fires. Overall it was an incredible experience – we went into the evacuation zone to film some of the people who couldn't escape. It was a technical challenge to keep equipment clean and functioning.
I also worked on the Queen's Christmas speech two years ago and I was in Washington in December providing coverage on Trump's impeachment. That's what I love about this job - I just don't know what I'll be doing next! 
How do you feel your studies at Solent helped prepare you for your role?
Solent provided so many opportunities for work experience through Solent Creatives and at events like Glastonbury – it seemed like every week I was able to do something new, which really helped to push me further. Also having all of the equipment loans was incredible to build upon my skills; I made big use of it and had the most loans out of the hatch in my year! Without the opportunity to do that, I don't think I'd be where I am now.
What advice would you give to those wanting to follow in your footsteps?
My advice would be to keep creating videos as much as you can, and experiment as much as you can. Take every opportunity that Solent offers through Solent Creatives and Solent Productions and fill your free time at University with being creative – making your own videos and getting feedback.
Feeling inspired? Take a look at our TV, film, media production and technology courses