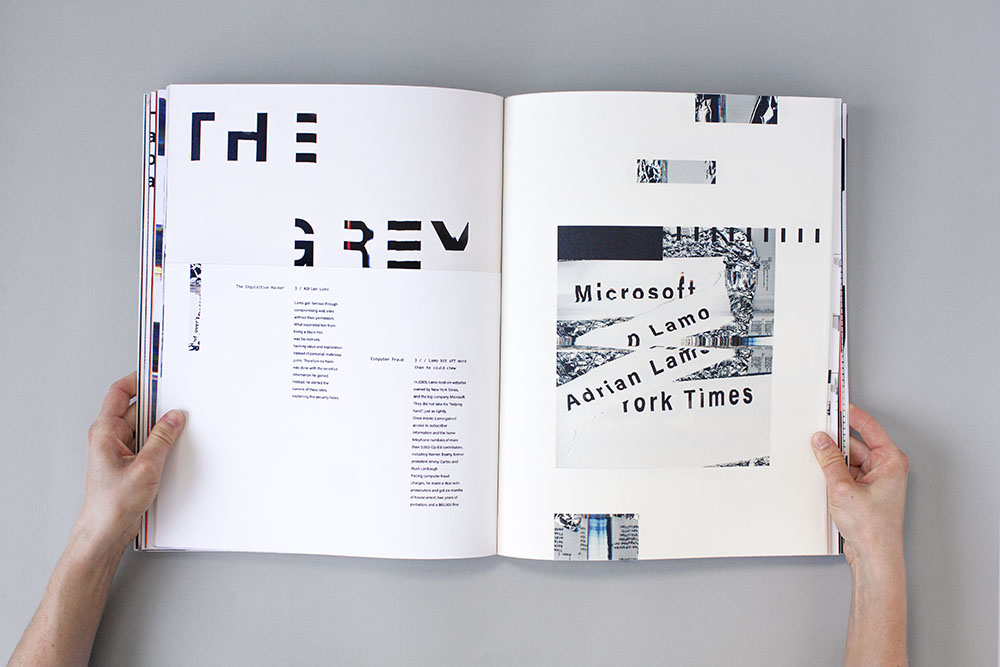 Understanding the media's influence
Bergen-based student Vilde Moen-Hudson created a series of designs exploring the media's influence and misuse of the word hacking for her final project.
The 22-year-old, who graduated in BA (Hons) Graphic Design (Top Up) in July, displayed her work as part of the final year degree show. She was also awarded the Total Identity prize for Story Telling.
We caught up with her to find out the inspiration behind her work.
Tell us a bit about your final project
I looked at the media's influence and misuse of the word – hacking; it currently represents illegal activity and security breaches in the public eye. I have produced a book that visualises the true meaning of the term and why people hack for the sake of it. The book has a hard-edge visual language, dominated by experimental imagery, typography and contrasts.
What was the inspiration behind your project?
To me, it was really important to choose a subject that would challenge me as a designer and force me to explore and push boundaries. Hacking did exactly that, being a complex and difficult topic to convey. In addition, the many possibilities and threats associated with hacking intrigued me.
What have you enjoyed most about your time at Solent?
To have my personal qualities as a graphic designer not only valued, but also enhanced through the excellent guidance at Solent, has been brilliant.
What's next for you?
Next for me is to gain work experience here in England as, throughout this year, I have been influenced by the English approach to graphic design. My end goal is a career back home in Norway.
Any advice for other students?
Have a chat with your tutors as they have a lot of valuable experience to share with you. Stay curious, never stop experimenting and take risks. Always try to enjoy creating, even at stressful times.
Steve Lannin, Senior Lecturer and Vilde's tutor on this project, adds: 
Vilde is a tenacious and highly creative student, it was great working with someone who can develop a project passionately. She was a very positive force on the graphic design studio and will achieve much when she leaves.
Find out more about our art and design courses