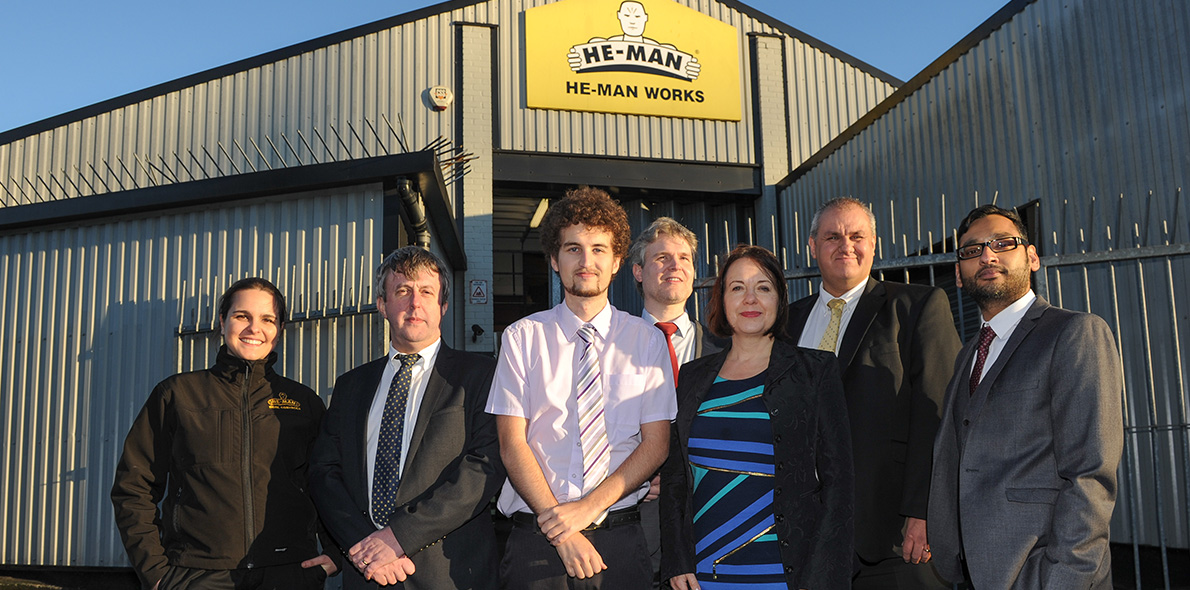 University partnership allows company to go global
Business' partnership with Solent helps it go global!
4th April 2016
A Southampton-based business is set to compete within international markets thanks to its partnership with Southampton Solent University, the government and UK Trade & Investment (UKTI).
He-Man Dual Controls is the leading UK dual controls supplier, and develops mechanical products for a range of vehicles, including specialist vehicles, driving school cars and cars for track use. The company will be branching out with electronic-based products, which are becoming more popular in European countries such as France, Belgium, the Netherlands and Luxembourg, thanks to support from a Knowledge Transfer Partnership (KTP).
Lasting from anywhere between six months and three years, KTPs allow businesses to benefit from the expertise of universities and recent graduates while receiving government funding. The scheme has been running for 40 years, and works by using the knowledge of an academic specialist to support a recent graduate, who is hired by a company to fulfil a business need in an area where it lacks knowledge. This is facilitated by the hired graduate being mentored by the partner university, and funded by the company and Innovate UK, a government body.
Paul Ferris, Managing Director at He-Man, says his KTP, a 10-month project, will help the company offer electronic products to most countries.
"Dual controls replicate the controls on the driver's side. In some countries overseas a visual and audio signal is required by the examiner if a driving instructor touches the pedals during a driving test, but you need an electronic control that does that," he says.
"There are also a number of vehicles that we currently can't fit our systems into, so linking one set of pedals to the other electronically is a distinct advantage.
"Products in this market haven't changed for a long time, so we don't want to be the dinosaur that misses the new ideas. The projects we're working on with Josh and Southampton Solent University will mean that we can install products into cars that we previously couldn't."
The successful applicant for Paul's KTP was Josh Bowen, who graduated from Southampton Solent University in 2015 having achieved first class honours in electronic engineering.
He says: "So far, I've been responsible for using my technical skills to project manage the KTP work plan developed by the partnership, which I find extremely motivating."
As part of the KTP, Southampton Solent University also offers He-Man the use of its extensive engineering facilities, such as 3D printers and testing equipment, as well as providing mentoring to the successful graduate. He-Man also provides further mentoring to Josh, as well as providing the opportunity for him to gain business experience. The company also offers students from the University the chance to see industry in action, through planned student visits to the He-Man factory.
Josh's mentor, Dr Marc Molinari, Course Leader of Electrical Engineering at Southampton Solent University, says: "For us, this KTP provides a great opportunity to apply our current knowledge and research to real world engineering and business challenges and to link up with local industry. Our students benefit by getting exposure to industry processes and expertise and as an academic I know that we teach subjects that are directly relevant to local employers and internationally operating companies."
For more information relating to KTPs at Southampton Solent University, email Katie Hornby, Knowledge Exchange and Business Development Manager, at Katie.Hornby@solent.ac.uk.