Nutrition lab
The lab is a purpose-built facility for teaching the practical side of nutrition in our health and fitness degrees.

About the nutrition lab
Our specially designed nutrition teaching facilities allow students to gain hands-on experience in a teaching kitchen.
The laboratory is used by students for basic cooking skills, and learning about the influence of culture on food. Students also use the laboratory for modifying recipes to meet special dietary requirements or health goals. The laboratory is used for extra-curricular activities for the nutrition students and staff, such as the healthy eating cooking session covering basic knife and cookery skills, run by the celebrity chef James Tanner.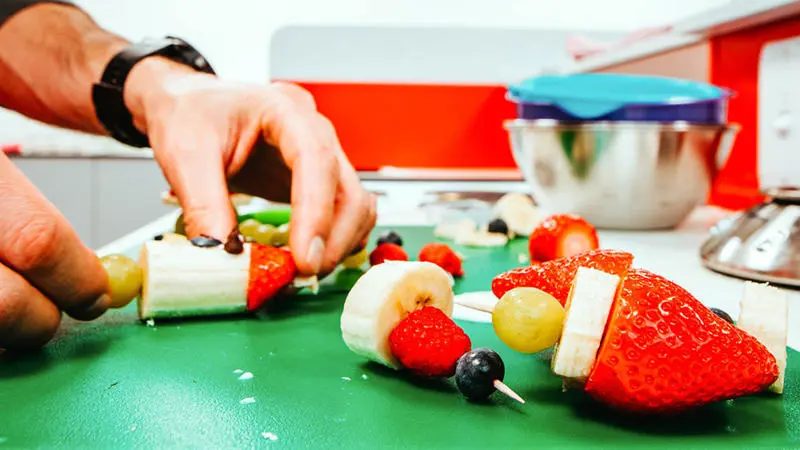 Cook and eat sessions have been held in the laboratory, run by the nutrition staff for internal and external groups, and each with a different focus. For example, sports nutrition sessions have been held for TASS (talented athlete scholarship scheme) and HPA (high performance academy) athletes, where they have learnt how to make sports drinks, training, and recovery food. Parents of school-aged children and University staff learnt how to make healthy meals quickly and easily that the whole family will enjoy. And Solent University freshers have classes on healthy eating on a budget, and learning basic cookery skills to prepare them for their new life away from home.
The laboratory includes industry-standard cooking equipment, and also contains healthy eating educational tools such as large-scale Eatwell Guides and food models.
Equipment
10 cooking islands, each with access to cookers, sinks, toasters, kettles, food processors, fridges, freezers and dishwashers.
Models (test-tubes) of the amount of sugar in foods and drinks.
Health promotion props such as fat and muscle models.
Equipment used to guide portion size, such as food models.
Large-scale Eatwell guide models for use in nutrition education.
Courses that use this facility
BSc (Hons) Health, Nutrition and Exercise Science
This facility is available to hire
Cooking facilities are available for hire subject to the hirer having a current Level 3 (or above) food hygiene qualification and meeting other health and safety requirements (such as completing a suitable risk assessment) required by the University.
Enquire about hiring this facility
Find out more about external hire