Available through clearing
3 years

4 years with foundation year
UCAS code: FSC1
Institution code: S30
Why study a fashion styling and creative direction degree at Solent University
If you have an eye for style, make-up and content creation - this degree can help you turn your creativity into a fast-paced and exciting career.
0

%

positive responses for academic support (NSS 2023)

0

%

of students feel staff are good at explaining things (NSS 2023)

0

%

positive responses for learning resources (NSS 2023)
Gain 100 hours of work-based learning for your CV before you even graduate, helping to ensure you complete your studies with the experience employers are looking for.

Feature your work in the annual high-end fashion publication, 'anon' giving you the perfect tool to showcase your creations.

Access to a range of specialist facilities, including a make-up and hair studio with industry-standard airbrush guns and studio lighting; modern photography studios; a comprehensive media loans scheme; and a range of well-equipped IT labs.

A creative, multi-disciplinary environment for world-leading research in media, culture and the arts – you will learn from experts in their field.
Course overview
Throughout the course you will acquire skills not only in styling, but also in make-up and hair, photography, retouching, trend forecasting and branding – making you a complete creative director with the skillset to become a distinctive and visionary voice within the fashion industry.
You will be supported to grow confidence in your understanding and use of independent learning and show an awareness of professional and personal development. And will be taught how to professionally apply the practical and technical skills developed throughout the studies for a diverse range of media and design platforms.
Crucial for this is collaboration and working as part of a creative team, with the ability to have an open and flexible approach to ideas. You will be encouraged to show initiative and demonstrate the ability to research and discuss sociocultural issues and perspectives that are related to the progression of visual design practice.
You will evaluate both contemporary, and historical fashion and lifestyle trends, for the formulation of creative and visual communication. And throughout this process, will practice self-reflection and critically challenge your own work and that of others, to develop a deeper understanding of your own development as a creative practitioner whilst being conscious and aware of how their work and research can impact on the wider community, both locally and globally.
Your learning is aided by free access to specialist hair and make-up studios. These studios include airbrush guns, studio lights and other industry-standard fixtures. Solent's media academy boasts high-spec photography studios and IT facilities, as well as a range of the latest editing software.
Work from our final year students across our fashion-related degrees is showcased at Graduate Fashion Week (GFW). In 2023, seven students have been shortlisted by the Graduate Fashion Foundation across a number of different categories at the GFW23 awards. Read more about the students and their work.
Course features
Foundation year available

If you're not quite ready for a full undergraduate degree, there's alternative entry through one of our foundation years

Further studies

After successfully completing your studies, there's an opportunity to continue your studies at Solent

Specialist facilities

This course has access to specialist facilities

Top-up option

If you have an appropriate Level 5 qualification, you can top it up to a degree in just a year
Who is this course for?
The course can lead to a wide range of exciting career prospects in areas such as magazine publishing, studio directors, social media and e-commerce and PR.
Recent graduates have gained career opportunities at Vogue UK, ASOS, Fenwicks, Hungry Tiger Studios, Trendstop, COS, Graduate Fashion Foundation and Graduate Fashion Week. Our alumni also include those who have created their own career and business opportunities through freelance editorial styling, photography and journalism.
What does this course lead to?
This course is suited to students who want to hone their creative skills, and learn how to channel these into the hands-on development of visual concepts.
Applicants should have a keen and broad interest in the creative industries, from fashion and design, to art and graphics, and will need to show a varied portfolio of both visual and written work upon application.
Solent stories
Hear from Solent alumni about where their careers have taken them and how studying at Solent prepared them for their future.
Read more stories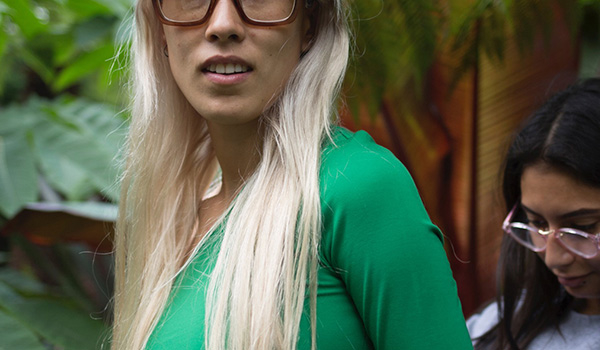 "The one-to-one tutor sessions give you great guidance and support when you need it."
---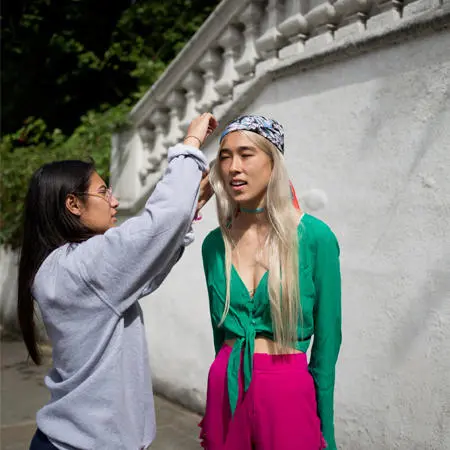 Meet the team
The course teaching team maintain close links with the industry, giving students access to unique industry insight from a range of high-profile guest speakers.
The University cannot guarantee any particular members of staff will teach specific aspects of the course in the future, but will endeavour to ensure the teaching team maintains their balance of experience and qualifications.
Facilities
You'll have access to a specialist make-up and hair studio with industry-standard airbrush guns and studio lighting; modern photography studios; a comprehensive media loans scheme; and a range of well-equipped IT labs.
Our vibrant campus brings state-of-the-art facilities to enhance your learning and elevate your student experience. Our award-winning teaching building, The Spark is centred around students and offers a stimulating study environment with flexible learning spaces. Away from studying, why not try out the gyms, fitness studios and sports halls in our £28 million Sports Complex, or watch a blockbuster film at our student-run cinema with Dolby Atmos audio.
Core modules
Crafting the Image
On this module you will be introduced to the practicalities of working as part of a team, and shooting in a studio environment. Discovering the relationship between lighting, model choice and direction, along with post-production, make-up/hair/fashion styling.
Style Cultures
It is important to look at cultural and socio-economic phenomena with a critical eye, and this module will teach you how to do just that. You will practice how to analyse and discuss contemporary culture and its historical foundations, and understand how art can interpret and reflect the worries and desires of a particular society.
The Style File
Through related technical sessions you will build a foundation of skills to aid the production of photoshoots and design-focused layouts. This will allow you to gain vital understanding of processes important to the publishing industry, and thinking how an image will be used, to give you a deeper understanding of design contexts.
Capturing Beauty
You will learn the central skills required when capturing beauty image and moving media, the processes explored in seminar and through lectures will look at historical understanding of beauty and the contemporary industry imagery that informs trend led ideas and outcomes. This will introduce you to fundamental knowledge of how to link your technical photography and fashion research when creating beauty focused imagery for editorial and advertising purposes.
Editorial Fashion
This module will provide you with an in-depth understanding of editorial fashion, target audiences and aesthetic principles. Understanding a broad range of aspects when it comes to magazine production and publishing, will equip you with the necessary knowledge needed to make well-informed creative decisions when creating work for any publication in industry.
Reading Pictures
This module will change the way you look at images. It will allow you to better understand the meaning of images and their place in the world. You'll learn to read the content of images, going beyond the surface to the underlying message. You'll also learn to look at images from a theoretical point of view and use this deeper understanding of images in the creation of your own written and practical work.
How you will learn and be assessed
You will learn by:
You will be assessed by:
Assignments

Final major project
Solent's curriculum framework builds on our unique, creative and applied approach to teaching. The transformation of students' lives is at the heart of our mission as a university, and our curriculum – informed by the latest theory – reflects this shared educational vision.
Find out more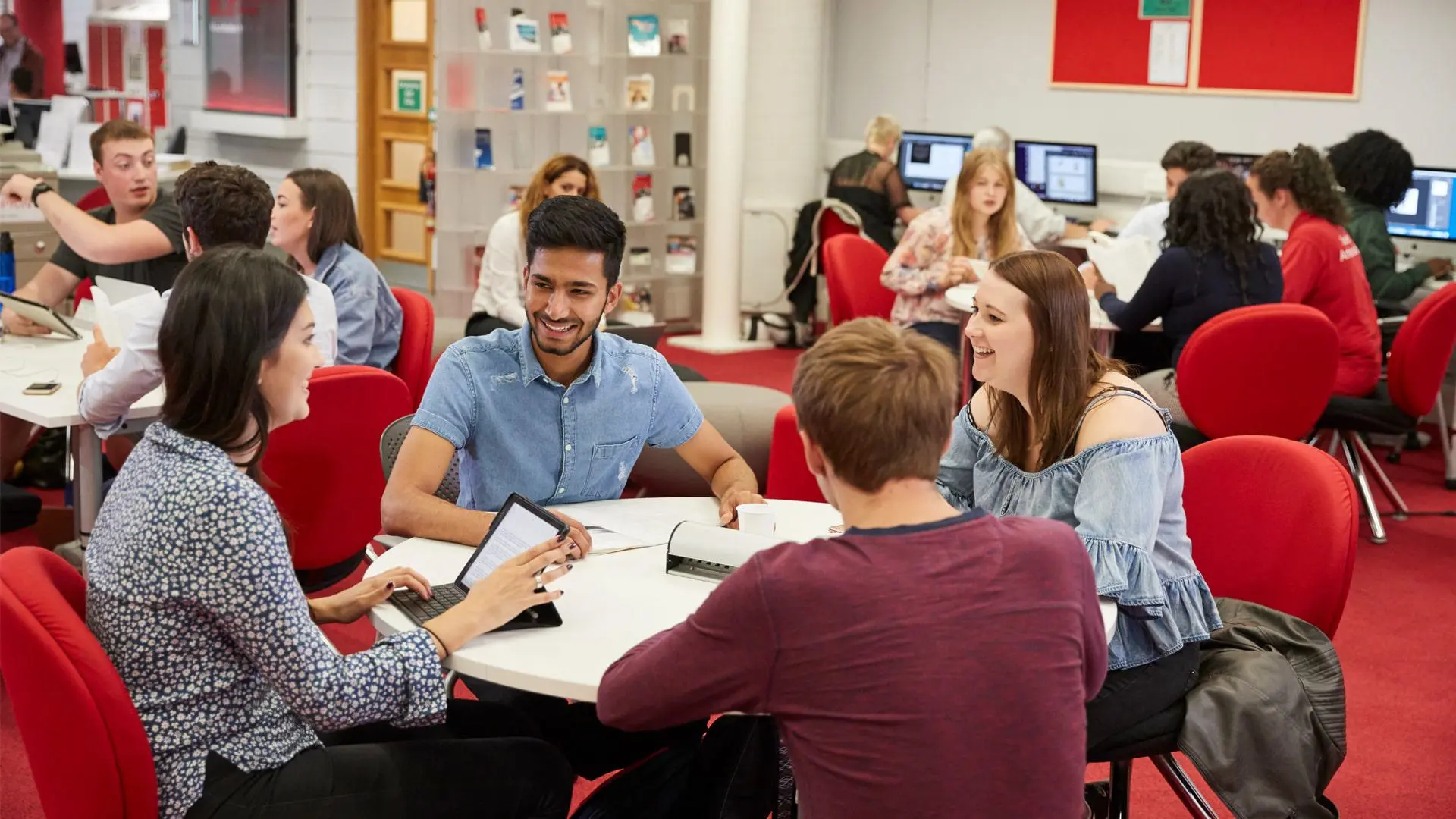 Study support
The student achievement team are on hand to help you succeed during your studies at Solent. They aim to contact you at key times during your time here with personalised information, advice and guidance, by email or phone.
Access Solent provides information, advice and guidance for disabled students.
All students can access Succeed@Solent, Solent's online guide to getting better grades. It offers extensive, practical information and advice on topics such as academic writing, research and presentations.
Why choose the industry?
The fashion industry is constantly developing and changing, thanks to the continuous advancement in technology and social and cultural trends in media and design. Gaining a solid foundation in the fundamental styling skills and ability needed to shoot successful visuals in a photography studio environment, along with the introduction and exploration of post-production techniques are key to preparing you for your creative development throughout your degree course. The skills delivered on this course go beyond producing editorial fashion shoots and stresses advertising campaigns, and experimental or commercial moving image.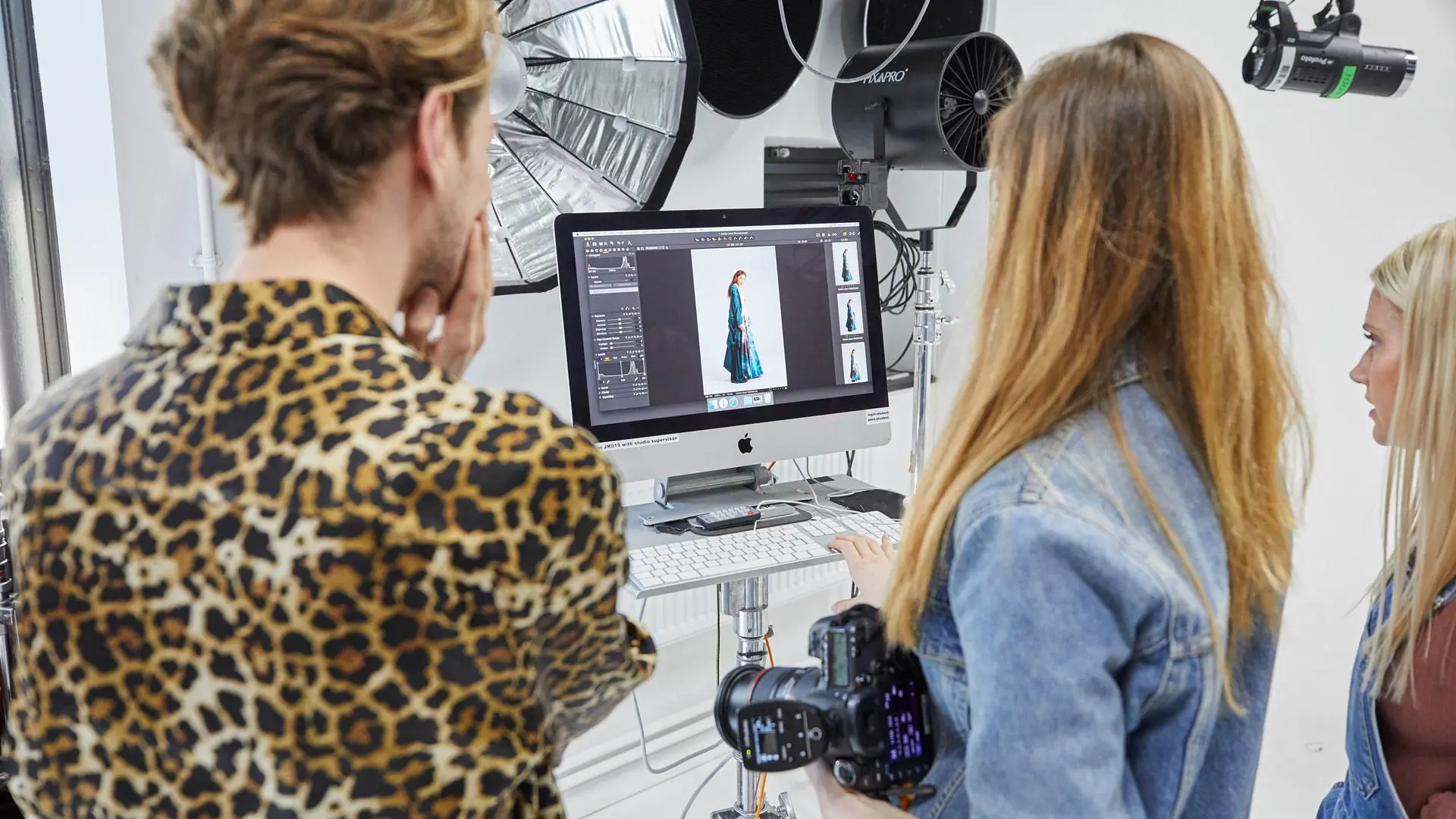 Tuition fees
The tuition fees for the 2023/24 academic year are:
UK, EU (settled status) and Channel Island full-time fees: £9,250 per year

International full-time fees: £15,000 per year
For further information, please visit our tuition fees page.
Extra course costs
While most course costs are covered by your tuition fees, some essential resources and optional extras may need to be paid for separately. These additional costs are listed below. For advice on budgeting and managing your money, please contact student.funding@solent.ac.uk.
The 2023/24 other costs are not yet available. For guidance, previous other costs have been:
Year one
Compulsory make up kit: £250
Compulsory memory sticks and printing, workbooks, study trips: £50
Optional international study trip: £250 - £300
Year two
Compulsory workbooks,memory sticks and printing: £150 - £200
Optional international study trip: £250 - £500
Year three
Compulsory digital printing, final major degree project, workbooks, study trips, memory sticks and printing: £100 - £300
Optional international study trip: £500 - £800
Bursaries, scholarships and financial support
Solent University offers a range of bursaries and scholarships that provide financial assistance or waive fees for tuition or accommodation. Each bursary or scholarship has specific eligibility criteria. Check out our bursaries and scholarships pages to find out more.
Graduation costs
There is no charge to attend graduation, but you will be required to pay for the rental of your academic gown (approximately £45 per graduate, depending on your award). You may also wish to purchase official photography packages, which range in price from £15 to £200+. Graduation is not compulsory, so if you prefer to have your award sent to you, there is no cost. Extra guest tickets will go on sale after results publication and will be sold on a first-come-first-served basis. The cost per ticket is currently £15. Please note, we do not guarantee there will be any extra tickets available to purchase.
Financial information videos
Entry requirements
Please select an option below:
Key entry requirements
104-120 UCAS tariff points
A minimum of two completed A-levels, a BTEC Extended Diploma at DMM or BTEC Diploma at D*D or equivalent qualification, or a combination of qualifications which comply with the minimum entry requirement of 104 UCAS points.
Direct entry into the second or third years may be considered for this course
UK applicants are required to send an electronic portfolio.
Applicants from outside the UK will be required to send an electronic portfolio.
Applicants over the age of 21 may be considered based on relevant experience, without having the required tariff points.
For further information about UK qualifications, please contact admissions.
Key entry requirements
As a general guide, we look for qualifications that are equivalent to the British high school A-levels.
Applicants from outside the UK will be required to submit an electronic portfolio for consideration.
If you are applying from outside the UK, find information about entry requirements, visas and agents for your country here.
For further information about EU qualifications, please contact admissions.
Key entry requirements
As a general guide, we look for qualifications that are equivalent to the British high school A-levels.
Applicants from outside the UK will be required to submit an electronic portfolio for consideration.
If you are applying from outside the UK, find information about entry requirements, visas and agents for your country here.
For further information about UK, EU and international qualifications, please contact admissions.
Note to all international students requiring a visa
All international applicants need to be aware that the English language requirements to attend Solent University, and the English language requirements to obtain a visa from the Home Office, may be different. This means that if you meet the Solent University language requirement to gain a place on the course, you may still have to meet additional requirements to be granted with a visa by the Home Office.
We strongly advise all applicants to visit the Home Office website which outlines all the requirements for a successful visa application and to take a look at our 2023 course entry statement document.
How to apply
Full-time
Any student applying for the first year of a full-time/sandwich undergraduate course must apply through UCAS (University and Colleges Admissions Service). This includes mature, overseas and EU students.
Nearly all schools and colleges offer their students the facility of applying electronically through the UCAS website using 'Apply'; it may also be used by those applying independently in the UK and overseas. This facility and all course information can be found on the UCAS website: www.ucas.com.
Your application should reach UCAS by 25 January if you hope to enter a course the following autumn. Early application is advised for the most popular subject areas. Late applications may be made until the end of June. The UCAS Code for the University is S30, code name SOLNT.
Find out what happens after you apply
Contextual offers
Solent endeavours to offer learning opportunities to students from all backgrounds. When we receive and review an application, we take into consideration the context and personal circumstances of applicants when making a decision, which means our advertised entry tariff could be reduced.
Alternative entry options
Top-up route:
We welcome applications from students currently studying a Foundation Degree, DipHE, HNC, HND or modules of an undergraduate degree course at another university, who wish to enter directly into Years 2 or 3 of one of our undergraduate degree courses. Please contact our admissions team for more information: contact us
Language requirements
Applicants who do not have English as their first language will be required to demonstrate an approved level of proficiency in the use of the English language. The agreed minimum requirements for this course are:
IELTS minimum 6.0 overall with a minimum of 5.5 in each individual component
TOEFL IBT minimum 80 with a minimum of 20 in each individual component
Duolingo English Language Test - 115 overall with minimum of 95 in each component or equivalent.
Qualifications are checked before enrolment, and international students must bring their original certificates or certified copies when coming to study at the University.
Pre-Sessional English programme
The University also offers a pre-sessional English programme for international students who wish to improve their level of English before starting a degree course.
We will prepare you for your future
The course can lead to a wide range of exciting career prospects including:
Stylist and image consultant
Make-up artist/designer
Fashion and beauty editorial
Fashion and beauty features writer
Forecasting
Public relations
Marketing
Advertising
Event manager
Visual merchandiser
Shoot production
We will help you start your career
The Solent Futures team is committed to getting students into great careers.
While you are studying, the team can help you with finding work experience or placements, link you with a mentor, check your CV, or offer one-to-one guidance.
If you're in your final year, we also have graduate job opportunities just for Solent graduates.
Find out more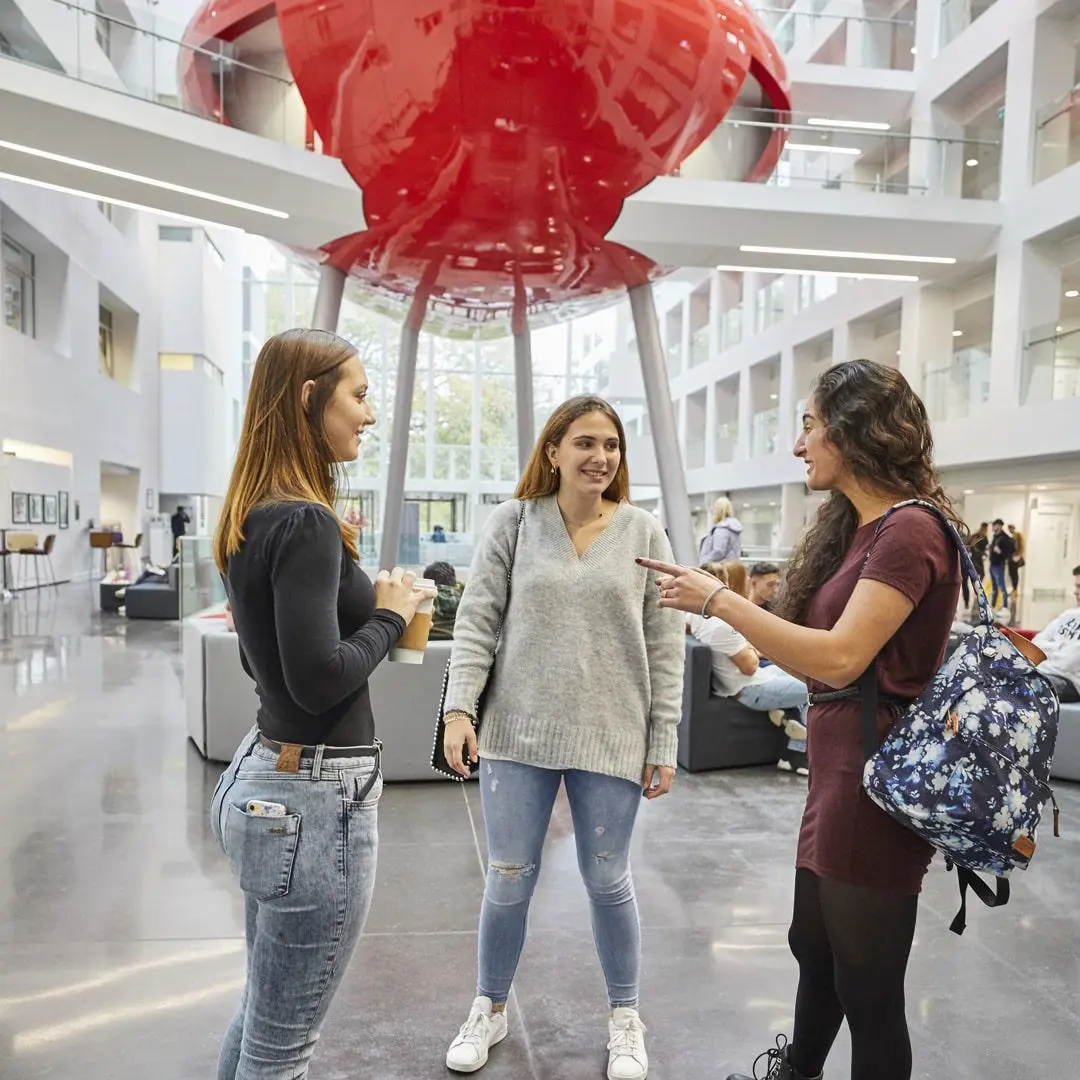 Support at Solent
All students at Solent University have access to a range of specialist support services. Whether you are having financial difficulty, need additional help with academic skills or want advice on setting up your own business you'll find that help is always on hand.
Most of our specialist support services are based around the Student Hub, a central space where you can access all the information and support you may need during your time at University. The Student Hub is the first point of contact if you have any queries relating to your course, including questions about your timetable, options, and assessments and extenuating circumstances.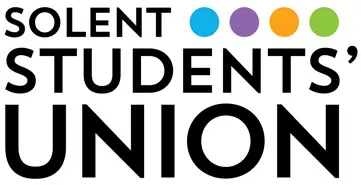 We work in partnership with the University to build a sense of pride and confidence in your Union, University and student experience.
Find out more

Further study
Thinking about studying further than an undergraduate degree? Alumni can get 20% off their postgraduate study.